UCF IS Ready For Space Travel With New Unis
The UCF Knights will be wearing new space inspired uniforms when they face off against East Carolina on Saturday night.  The uniforms feature astronaut patches, constellations like Orion, as well as moon print in the school logo on the helmets.
This is by far our favorite alternate uniform of the year. The university and Nike did an amazing job incorporating the school's history into the unis. There is certain school in north Florida that should have taken some notes on uniform design.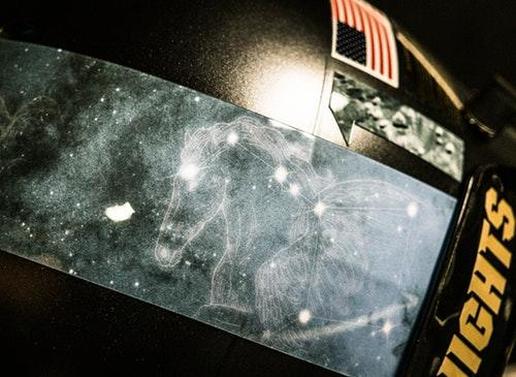 UCF's Press Release:
UCF continues to push the frontiers of space research
UCF has been involved in eight (8) NASA missions, including the recently-concluded (Sept. 15) Cassini mission to Saturn and the active OSIRIS Rex mission to retrieve samples from a nearby asteroid
UCF is home to NASA's Center for Lunar and Asteroid Science
In 2012 UCF had a planet named after it. UCF researchers discovered an exoplanet candidate they named UCF-1.01, which is only two-thirds the size of the Earth and 33 light-years away, with surface temperatures of more than 1,000 F.
UCF boasts two astronauts: Frank Caldiero (Class of '95) and Nicole Stott (Class of '92).
Check out the unis below.
The uniform UCF is wearing this week for the "Space Game" has been released 🔥

We have come SO far since not having names on the uniforms 🚀 pic.twitter.com/z9aIrD3YIf

— UCF Party Tutor (@UCF_PartyTutor) October 10, 2017
The Knights are currently No. 24  in the AP Polls.
The Best Moments Of The 2018 NBA Draft
The NBA Draft is filled with surprising moments. Teams passing on future stars and crazy trades. The draft is beginning and the end for some teams. The 2018 NBA Draft is no different. So check out some of our takeaways for the night.
Best Move: Tray Young & Luke Doncic
The Atlanta Hawks drafted big man Luke Doncic at number 3, after the Kings passed on him. Alot of that had to do with rumors of Doncic not wanting to play in Sacramento. The Hawks traded the rights to Dallas for Tray Young. This was a win-win for both teams. Doncic is a good fit with the Mavs current core and can be the heir apparent to Dirk. This gives him a HOF to learn from during his rookie season. Tray gets to go to East and become the new face of a franchise.
Atlanta also picked up a 2019 first-round pick from the Mavericks that will convey to them next June as long as it falls outside the top five, according to the New York Times' Marc Stein.
Same Ol Shit: Sacramento Kings Taking Another Big Man
Kings went with Duke product Marvin Bagley III, after reports that Doncic didn't to play for the Kings. The Kings seem to favor the centers when they could've got younger at PF or SF. The team is already filled with big men. The Kings were are also high on Michael Porter Jr., but he fell to 14th in the draft due to some medical questions with his hip.  Not that Bagley is a bad pick, it just the Kings being the Kings.
Biggest Winner: Joell Embiid
Don't compare Ayton to me either… I play DEFENSE

— Joel Embiid (@JoelEmbiid) June 22, 2018
WTF Award: Shai Gilgeous-Alexander
Tray Young decided to show up to draft with a short suit. We thought that would be the most outrageous suit. Until Shai Gilgegous-Alexander showed up. The Clippers rookie channeled his inner Russell Westbrook with his floral suit.
Nike Releases Exclusive Golden State Championship Epic React
The Golden State Warriors are now a Dynasty after winning their third NBA Championship in four years.
Nike has commemorated the championship with exclusive Epic Reacts for the team. The Flyknit footwear that will never be released to the public.
This special edition Nike Epic React Flyknit bears the regal colors of white, gold, and black with the Larry O'Brien trophy hangtag and custom insoles. Just 37 pairs were made in sizes ranging 9-18 exclusively for the Warriors organization, and you might've caught Andre Iguodala wear them during the parade.
Kyrie Irving Turns Down Contract Extension With Boston
Kyrie Irving was the biggest summer team addition in 2017.
Irving can sign a max of a four-year, $101 million deal with the Celtics this summer. According to ESPN's Chris Forsberg, Irving does not plan sign any contract extension.
Kyrie Irving not considering an extension. "Contractually, financially, it just doesn't make any sense."

Kyrie ready for the daily barrage of future question but said focus is on 18-19 season.

"I'm pretty sure management and I will have a talk, but that talk won't happen now."

— Chris Forsberg (@ESPNForsberg) June 12, 2018
Irving is set to make $20 million dollars during the 2018-2019 season. He also has a player option for 2019-2020 that would pay him $21 million dollars. Boston have the Bird rights for Irving, which would allow Boston to go over the salary cap to sign Irving.
Irving holds the cards in this situation. If he leads the C's to a championship he could demand a max contract that will pay him $200 million. If Boston decides not to resign Irving their are teams lining up to pay him.