UCF IS Ready For Space Travel With New Unis
The UCF Knights will be wearing new space inspired uniforms when they face off against East Carolina on Saturday night.  The uniforms feature astronaut patches, constellations like Orion, as well as moon print in the school logo on the helmets.
This is by far our favorite alternate uniform of the year. The university and Nike did an amazing job incorporating the school's history into the unis. There is certain school in north Florida that should have taken some notes on uniform design.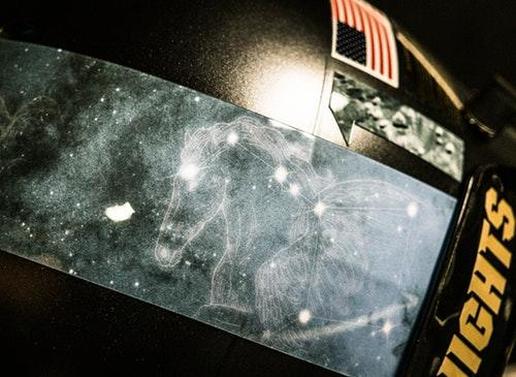 UCF's Press Release:
UCF continues to push the frontiers of space research
UCF has been involved in eight (8) NASA missions, including the recently-concluded (Sept. 15) Cassini mission to Saturn and the active OSIRIS Rex mission to retrieve samples from a nearby asteroid
UCF is home to NASA's Center for Lunar and Asteroid Science
In 2012 UCF had a planet named after it. UCF researchers discovered an exoplanet candidate they named UCF-1.01, which is only two-thirds the size of the Earth and 33 light-years away, with surface temperatures of more than 1,000 F.
UCF boasts two astronauts: Frank Caldiero (Class of '95) and Nicole Stott (Class of '92).
Check out the unis below.
The uniform UCF is wearing this week for the "Space Game" has been released 🔥

We have come SO far since not having names on the uniforms 🚀 pic.twitter.com/z9aIrD3YIf

— UCF Party Tutor (@UCF_PartyTutor) October 10, 2017
The Knights are currently No. 24  in the AP Polls.
Jimmy Butler Wants Out Of Minnesota
Jimmy Butler is ready to suit up for another team.
Butler is  Brooklyn Nets, Los Angeles Clippers and New York Knicks on his list of preferred destinations according to ESPN's Adrian Wojnarowski.
Minnesota's Jimmy Butler has three preferred destinations for a trade, league sources tell ESPN: The Brooklyn Nets, Los Angeles Clippers and New York Knicks. Those three teams have max cap space to sign Butler as a free agent in July.

— Adrian Wojnarowski (@wojespn) September 19, 2018
Butler can be a free agent in July, and those three teams have the max salary space to sign him without giving up assets in a trade.
He informed Timberwolves president and coach Tom Thibodeau of the request during a meeting Tuesday in Los Angeles, sources said.
He averaged 22.2 points, 5.3 rebounds and 4.9 assists in Minnesota last season.
Dwayne Wade Coming Back For One Last Season
Dwayne Wade is calling it quits after the 2018 NBA season.
The 12-time All-Star already has three championships is ready to walk away from the game. Wade announced his return in video titled "One Last Dance."
"This decision is bigger than the game of basketball," said the soon to be 37-year-old. "This decision don't have nothing to do with the talent I have in my body. Yeah, I'm not as quick as I used to be. Yeah, I don't jump as high as I used to. Yeah, I don't. Yeah, I don't. Yeah, I don't.
"A lot of you guys see me is as a three-time champion, a 12-time All-Star, an Olympic gold medalist, y'all didn't see that kid that no one [saw] because he was small, because he couldn't shoot as good as everybody else," he said. "Y'all didn't see the grind. Y'all didn't see the tears."
Wade will return with Miami Heat for his last season. Many fans will forget about his lost tape years in Chicago and Cleveland.
"I still see a player who can contribute heavily if he really wants to," Heat president Pat Riley said to reporters in July. "If he plays, he's going to want to do that. We don't want him back as a place-mat holder or somebody who's going to be a veteran in the locker room. Dwyane is a great player, a great talent. He's not the same guy he was in 2006, but he can be a very good player for us and can make a big difference for us. We want him back as a guy that realizes if this is going to be his last year or whatever, we want this to be his best year ever."
Vontae Davis Retires From The NFL During Halftime
The Buffalo Bills lost their second game of the season on Sunday, falling to the Los Angeles Chargers 31-20. The team also lost their starting cornerback Vontae Davis.
Davis was not lost to injury, he decided to retire at halftime. "Coming out they said he's not coming out, he's retired," said Bills Lineback Lorenzo Alexander.
"[He] pulled himself out of the game," Bills coach Sean McDermott said. "He communicated to us that he was done."
The NFL released an official statement from Davis on Twitter. Davis said that the reality had hit him: "I shouldn't be out there anymore."
"And truthfully, I do not because the season is long, and it's more important for me and my family to walk away healthy than to willfully embrace the warrior mentality and limp away too late," he said in the statement.
"This was an overwhelming decision, but I'm at peace with myself and my family."