Things To Know Before Investing In Cryptocurrency
In 2009 Bitcoin was less than a dollar.  You could have taken all of the money spent on fast food for the year and purchased some coins. Most Americans spend over $1500 dollars a year on fast food. So let's just use that.  Today Bitcoin cost about $18,000 dollars per unit, so that means if you would have invested your fast food money you would have $27 million dollars worth of Bitcoins.
Those type of crazy numbers is why people are going crazy for Bitcoins and other cryptocurrencies. But before you mortgage your home and sell all of your possessions check out some things you need to know.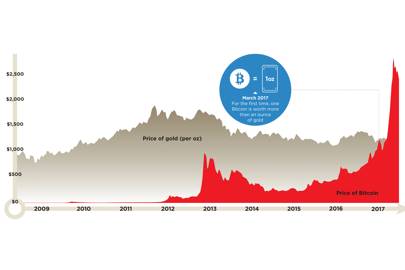 What Is Bitcoin?
Bitcoin is a type of cryptocurrency. OxfordDictionaries.com defines cryptocurrency as "a digital currency in which encryption techniques are used to regulate the generation of units of currency and verify the transfer of funds, operating independently of a central bank."
It might be useful to think of bitcoin as a digital currency that can be used to complete a transaction between two parties without involving a middleman. So in short person to person. It enables direct, private transactions between users, with virtually no transaction costs. So there are no atm fees, late fees, account fees, balance requirements, or bullshit overdraft charges.
Alt coins?
These are cryptocurrencies other than Bitcoin and there are hundreds of them. Anyone with the know-how can set up their own version of cryptocurrency as easy as most setup a social profile. But there are some outsiders like Monero, Ripple and Dash that have the potential to go far. Ethereum, which recently won backing from Microsoft and JP Morgan Chase, is up 900 per cent this year.
What's The Risk?
Buying cryptocurrency comes with a lot of risks since there are no regulations. In a recent poll with CNBC.com, most economists believe that Bitcoin is on the bubble and will suffer a huge downturn.  The last time the US stock market fell by more than ten per cent in a day was back in 1957; Bitcoin has seen more than ten per cent wiped off its value 38 times since January 2012. A cryptocurrency could also be obliterated overnight. Should major governments regulate hard against it or hackers manage to break its security, that's your money up in smoke. What's more, criminals have been stealing from online wallets and since there are no regulations or anyone to fill a fraud charge with.
How Much Could You Make?
There is no right or wrong answer here. Forget about the hype machines or the doomsday preppers. The easiest way to think about it, only invests what you are willing to lose. Things on the don't lose list should be your family, your livelihood, or your entire life savings.
Canada Legalizes Weed With Historic Vote
Canada becomes the second in the world to legalize recreational marijuana use.
Marijuana possession was officially outlawed in Canada during the 1920s. On Tuesday night, the Senate voted 52-29 to pass Bill C-45, also commonly known as the Cannabis Act. The measure was previously approved by the House of Commons, and now awaits Royal Assent for the final step in Canada's legislative process.
According to NPR, the bill will allow anyone over the age of 18 to possess no more than 30 grams of marijuana. It also allows adults to sell cannabis as well as grow up to four plants in their home.
Authors of the bill pointed to several benefits of legalization, including economic stimulation and protecting the youth from criminal operations.
The biggest win is the decriminalization of fewer than 30 grams. No longer will citizens face lengthy jail terms from 3 months to 5 years in prison and have to deal with the parole system.
Jay-Z Is Puma's New Creative Director Of Basketball
Jay-Z has had many roles in his career. After surprising fans with a joint album with his wife Beyonce, Hov was announced as the Creative Director for Puma.
"We've been working with Roc Nation for quite some time. They've been great partners to us for several years. We've done many different deals with many different ambassadors," Adam Petrick, Puma's global director of brand and marketing, told Complex. When Puma approached him about this opportunity, JAY-Z felt it "was something he wanted to be a part of," according to Petrick.
Hov will have a hand in the players selected to join Puma's basketball division, as well as assist in the art design and overall concept and direction of the brand.
"I can confirm that according to his deal with PUMA, JAY Z's official designation is Creative Director. I referred to him today (as president of basketball) by an informal designation." — Adam Petrick, Puma's global director of brand and marketing

— Darren Rovell (@darrenrovell) June 19, 2018
The global shoe and sportswear company has announced the signings of top draft prospects DeAndre Ayton (Arizona), Marvin Bagley III (Duke), and Zhaire Smith (Texas Tech). Ayton is considered the unanimous favorite to go No. 1 to the Phoenix Suns in Thursday's draft, while Bagley and Smith are also expected to go in the lottery.
"What's important to him on a day like today is that it's clear we're making a serious push with players like Bagley and Ayton and Smith. We're making a serious statement about the entry of the category, that we want to be a performance brand, but then also very culturally focused. It's clear that we're looking at basketball through the lens of culture, and thinking about the fashion of basketball, the music of basketball, all the aspects of culture around basketball as much as the on court presence that we will have," Petrick added.
You wonder if FBI case changed typical quid pro quo of the deal. As in, Nike didn't want to sign Bagley because of link. https://t.co/cKfjScVG0X

— Darren Rovell (@darrenrovell) June 18, 2018
Lebron James Is Not Surprised With Donald Trump Uninvited The Eagles To The White House
The Philadelphia Eagles were scheduled to visit this White House, but yet again President Trump decided to revoke the invitation on Monday.
Since the entire team wouldn't attend because of their stance against President's policies and views on the anthem, pulled another dick move. Trump used is as another political diversion questioning the patriotism of the players.
On Tuesday, LeBron James at his press conference ahead of Game 3 on Wednesday night. James, who has never been afraid to criticize Trump, responded that it was "typical of him" and noted that he wouldn't have that problem with whoever wins the NBA Finals because they won't want the invite.
Steph Curry cosigned with James' sentiment.
Steph Curry on Trump-Eagles: "Not surprising." On LeBron's statement that neither team would accept a White House invitation. "I agree with Bron."

— Michael Lee (@MrMichaelLee) June 5, 2018