Things To Know Before Investing In Cryptocurrency
In 2009 Bitcoin was less than a dollar.  You could have taken all of the money spent on fast food for the year and purchased some coins. Most Americans spend over $1500 dollars a year on fast food. So let's just use that.  Today Bitcoin cost about $18,000 dollars per unit, so that means if you would have invested your fast food money you would have $27 million dollars worth of Bitcoins.
Those type of crazy numbers is why people are going crazy for Bitcoins and other cryptocurrencies. But before you mortgage your home and sell all of your possessions check out some things you need to know.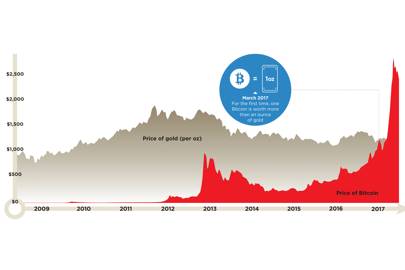 What Is Bitcoin?
Bitcoin is a type of cryptocurrency. OxfordDictionaries.com defines cryptocurrency as "a digital currency in which encryption techniques are used to regulate the generation of units of currency and verify the transfer of funds, operating independently of a central bank."
It might be useful to think of bitcoin as a digital currency that can be used to complete a transaction between two parties without involving a middleman. So in short person to person. It enables direct, private transactions between users, with virtually no transaction costs. So there are no atm fees, late fees, account fees, balance requirements, or bullshit overdraft charges.
Alt coins?
These are cryptocurrencies other than Bitcoin and there are hundreds of them. Anyone with the know-how can set up their own version of cryptocurrency as easy as most setup a social profile. But there are some outsiders like Monero, Ripple and Dash that have the potential to go far. Ethereum, which recently won backing from Microsoft and JP Morgan Chase, is up 900 per cent this year.
What's The Risk?
Buying cryptocurrency comes with a lot of risks since there are no regulations. In a recent poll with CNBC.com, most economists believe that Bitcoin is on the bubble and will suffer a huge downturn.  The last time the US stock market fell by more than ten per cent in a day was back in 1957; Bitcoin has seen more than ten per cent wiped off its value 38 times since January 2012. A cryptocurrency could also be obliterated overnight. Should major governments regulate hard against it or hackers manage to break its security, that's your money up in smoke. What's more, criminals have been stealing from online wallets and since there are no regulations or anyone to fill a fraud charge with.
How Much Could You Make?
There is no right or wrong answer here. Forget about the hype machines or the doomsday preppers. The easiest way to think about it, only invests what you are willing to lose. Things on the don't lose list should be your family, your livelihood, or your entire life savings.
Thing You Can Do To Stop Wasting Money
We are all guilty of compulsive spending from time to time. But at some point we need to really evaluate where our money is going and is it really worth us buying. Think about this the average American works 39.8 hours per week and pulls in an after-tax income of $52,330, the average bachelor works even more, and earns less: averaging 44.2 hours per week and making only $32,200 in after-tax income. 
Most people fall into the trap of spending the wages before they have it. They make plans but fall to save to accommodate their plans which leads us to burning our money on expenses we can leave without. First if you are one of those people, you need to stop and rethink your spending habits. Check out some of the tips below that can help you keep more money in your pocket.
1. Cable TV
Maybe you should cut cable TV from monthly bills. On average most households spend around $120 a month on cable. With the advent of Hulu, Netflix, Amazon Instant Video, video game shortcuts, Apple TV, and just about every major TV network posting shows online, there's hardly a reason to splurge on a fancy DVR system or even basic cable–so long as you're willing to be patient.
Most shows are added at least 24-hours after airing and some networks won't give them up until eight days. And if your reason for keeping the cable is because you want to catch a football or basketball game on TV, going to a sports bar can take care of that itch.
2. Bank Fees
Banks clearly love to slap you with fees at the drop of a hat, but that doesn't mean you've got to put up with it.
"Consider going with a credit union, which are better than banks in many ways, to avoid some of these fees," says Andrew Schrage, founder of MoneyCrashers.com.
"If you travel abroad often, make sure you use credit cards without foreign transaction fees, otherwise you'll be paying an extra 3% to 5% on all your purchases."
3.  SmartPhones
Ok everybody has a smartphone and we are not telling you not to have one, but do you need the latest model. You can save up to $700 waiting to upgrade you phone instead buying a new one every 6 months because the color of the phone has changed.
"We have seen people making less than $1,000/month who are spending over $100 of that monthly on a cell phone," he says. "Get an affordable plan and avoid the bells and whistles phones that can be used to upsell you to a higher data plan."
4. Don't Blow It All
Instead of spending your entire check on just one thing you really want, consider selling something you don't use — say, that two-year-old iPhone sitting in your drawer — at Gazelle to get the extra cash and keep some money in your pocket.
5. Plan For Your Fun
Plan for you fun, instead of going out 3 nights a week and blowing your entertainment budget buying drinks. Think about if you went out to a bar and spent $50 on drinks a night, you would have spent $600 a month on drinks. If you did that for a year, you would have spent $7,200 on drinks. So instead of going out 3 nights, go out 1 night  a week.
Put away the rest of the money you would've spent on drinks and got on a vacation.
Apple Planning Over Bringing $350 Billion To The American Economy
Apple is the biggest company in the world and the company has decided to change directions. President Trump introduced a new tax plan that Apple plans to take full advantage of. Apple previously had over 97% of all of their cash outside of the US, now the company is planning to spend $350 billion in the US over the next 5 years.
Apple is now claiming its new investment back home will create 20,000 jobs, increasing their number of employees by nearly 25%, and build a new campus in an area where it has no operations currently. "We have a deep sense of responsibility to give back to our country and the people who help make our success possible," Apple CEO Tim Cook explained.
Apple had long resisted returning to the U.S. its $265 billion in overseas funds because those holdings would be taxed at a rate of approximately 40%, Chief Executive Tim Cook told "60 Minutes." Under the new tax law passed last month, however, Apple could face a one-time rate of 15.5% for bringing that wealth back to the U.S.
This is a big move and can ultimately encourage other major companies to follow suit.
VIA: NYTimes 
Dragon Ball Z Inspired Yeezy's Leaked
It was rumored for months that Adidas was working on an exclusive Dragon Ball Z collabo. Now we have our first look at what we can expect in August when the shoes are released.
YeezyMafia have now unveiled what can be expected from the remaining sneakers as well as when they may be launching.
Pairs already previewed included the Adidas Yung-1 "Frieza," an Adidas Prophere "Cell,"and an Adidas Kamanda "Majin Buu."  The remaining pieces of the pack are the Adidas ZX 500 RM, Derrupt, Ultra Tech, and EQT Mid ADV. The releases (other than the EQT Mid ADV) appear to be coming in pairs referencing battles between the characters.