In 2009 Bitcoin was less than a dollar.  You could have taken all of the money spent on fast food for the year and purchased some coins. Most Americans spend over $1500 dollars a year on fast food. So let's just use that.  Today Bitcoin cost about $18,000 dollars per unit, so that means if you would have invested your fast food money you would have $27 million dollars worth of Bitcoins.
Those type of crazy numbers is why people are going crazy for Bitcoins and other cryptocurrencies. But before you mortgage your home and sell all of your possessions check out some things you need to know.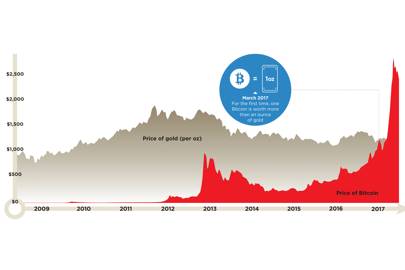 What Is Bitcoin?
Bitcoin is a type of cryptocurrency. OxfordDictionaries.com defines cryptocurrency as "a digital currency in which encryption techniques are used to regulate the generation of units of currency and verify the transfer of funds, operating independently of a central bank."
It might be useful to think of bitcoin as a digital currency that can be used to complete a transaction between two parties without involving a middleman. So in short person to person. It enables direct, private transactions between users, with virtually no transaction costs. So there are no atm fees, late fees, account fees, balance requirements, or bullshit overdraft charges.
Alt coins?
These are cryptocurrencies other than Bitcoin and there are hundreds of them. Anyone with the know-how can set up their own version of cryptocurrency as easy as most setup a social profile. But there are some outsiders like Monero, Ripple and Dash that have the potential to go far. Ethereum, which recently won backing from Microsoft and JP Morgan Chase, is up 900 per cent this year.
What's The Risk?
Buying cryptocurrency comes with a lot of risks since there are no regulations. In a recent poll with CNBC.com, most economists believe that Bitcoin is on the bubble and will suffer a huge downturn.  The last time the US stock market fell by more than ten per cent in a day was back in 1957; Bitcoin has seen more than ten per cent wiped off its value 38 times since January 2012. A cryptocurrency could also be obliterated overnight. Should major governments regulate hard against it or hackers manage to break its security, that's your money up in smoke. What's more, criminals have been stealing from online wallets and since there are no regulations or anyone to fill a fraud charge with.
How Much Could You Make?
There is no right or wrong answer here. Forget about the hype machines or the doomsday preppers. The easiest way to think about it, only invests what you are willing to lose. Things on the don't lose list should be your family, your livelihood, or your entire life savings.