Things To Know Before Investing In Cryptocurrency
In 2009 Bitcoin was less than a dollar.  You could have taken all of the money spent on fast food for the year and purchased some coins. Most Americans spend over $1500 dollars a year on fast food. So let's just use that.  Today Bitcoin cost about $18,000 dollars per unit, so that means if you would have invested your fast food money you would have $27 million dollars worth of Bitcoins.
Those type of crazy numbers is why people are going crazy for Bitcoins and other cryptocurrencies. But before you mortgage your home and sell all of your possessions check out some things you need to know.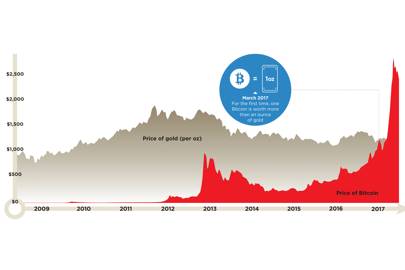 What Is Bitcoin?
Bitcoin is a type of cryptocurrency. OxfordDictionaries.com defines cryptocurrency as "a digital currency in which encryption techniques are used to regulate the generation of units of currency and verify the transfer of funds, operating independently of a central bank."
It might be useful to think of bitcoin as a digital currency that can be used to complete a transaction between two parties without involving a middleman. So in short person to person. It enables direct, private transactions between users, with virtually no transaction costs. So there are no atm fees, late fees, account fees, balance requirements, or bullshit overdraft charges.
Alt coins?
These are cryptocurrencies other than Bitcoin and there are hundreds of them. Anyone with the know-how can set up their own version of cryptocurrency as easy as most setup a social profile. But there are some outsiders like Monero, Ripple and Dash that have the potential to go far. Ethereum, which recently won backing from Microsoft and JP Morgan Chase, is up 900 per cent this year.
What's The Risk?
Buying cryptocurrency comes with a lot of risks since there are no regulations. In a recent poll with CNBC.com, most economists believe that Bitcoin is on the bubble and will suffer a huge downturn.  The last time the US stock market fell by more than ten per cent in a day was back in 1957; Bitcoin has seen more than ten per cent wiped off its value 38 times since January 2012. A cryptocurrency could also be obliterated overnight. Should major governments regulate hard against it or hackers manage to break its security, that's your money up in smoke. What's more, criminals have been stealing from online wallets and since there are no regulations or anyone to fill a fraud charge with.
How Much Could You Make?
There is no right or wrong answer here. Forget about the hype machines or the doomsday preppers. The easiest way to think about it, only invests what you are willing to lose. Things on the don't lose list should be your family, your livelihood, or your entire life savings.
Drake Sues Woman Over Extortion And Fruad
Drake is suing the woman that made false pregnancy and rape allegations against him in 2017.
According to TMZ, in the suit, Layla Lace met Drake during last year's Boy Meets World Tour in Manchester, England, where he claimed they had consensual sex.
He claimed that when he stopped responding to subsequent messages, she allegedly began threatening to leak their correspondence, publicly claimed he had impregnated her, accused him of rape, and demanded "millions of dollars" in exchange for silence. Drake is reportedly suing for civil extortion, emotional distress, fraud, defamation, and abuse of process.
The suit claims Layla refused to take a paternity test and Layla and her lawyer went radio silent. Drake says the whole thing was a scam … "There is no credible evidence of pregnancy, nor any baby, which would have been born last Fall."
According to the lawsuit, Layla switched tactics and went to authorities in New York and alleged Drake had raped her during their one-night stand.
The Manchester police reportedly interviewed and cleared Drake of sexual assault accusations when the case was referred to them.
Michael Jordan Is Donating $2 Million Dollars For Hurricane Florance Relief
Michael Jordan is donating to hurricane aid for his home state.
Jordan is contributing $1 million each to the American Red Cross and the Foundation For The Carolinas' Hurricane Florence Response Fund. The American Red Cross is providing food and shelter to thousands of people who have been displaced by the hurricane, while the Foundation For The Carolinas' Hurricane Florence Response Fund directs funds to nonprofits in North and South Carolina providing relief to victims of the storm.
Jordan also reportedly stressed the importance of the long-term recovery from the storm.
"People need to understand this will not be a week-long process. This is going to have a huge disruption on people's lives – not for 10 days, but for years," Jordan told the Charlotte Observer, adding that he hopes his donation will spur people to get involved.
Hurricane Florence made landfall over the weekend across the Eastern seaboard, leaving at least 33 people dead and causing flooding and widespread power outages in the areas hardest hit by the storm in Virginia and the Carolinas. More than 10,000 residents have reportedly been displaced amid the devastating aftermath
Will Smith Reveals Fresh Prince Jordan 5s
Will Smith is celebrating The Fresh Prince anniversary with the Jordan brand.
Today Smith revealed the "Fresh Prince" Air Jordan 5, in an unboxing video. He also revealed a second friends and family version—limited to just 23 pairs—which uses traditional shoelaces and the "Grape" accents but covers the entire upper in a gold sateen sheen.
Ahead of Smith's 50th birthday on Sept. 25, fans can sign up at Omaze for a chance to spend the day with the Fresh Prince and take home one of the 23 friends and family Air Jordan 5s.
As for the retail version, 19,000 pairs will be released on Smith's birthday.