Terry Crews Wants To Return For X-Force Movie
Terry Crews joined up with Ryan Reynolds in Deadpool 2.  Crews played the comic hero Bedlam, one of the mutants that Deadpool recruited.
Crews interested in seeing the character revived for the planned X-Force movie. There is one huge problem. Bedlam was killed off in a huge troll to the superhero team-ups. In a recent interview, Crews expressed how the character could have survived the fallout.
"You know what? Actually, if you look at the movie, I was on life support. They were trying to revive me, so you didn't see me get cut up or head cut off. There's always something. I would love to come back for Deadpool 3."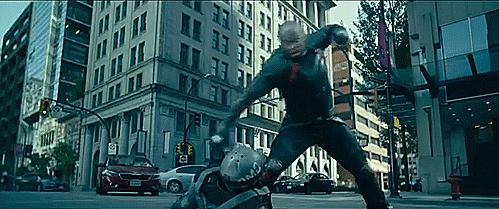 Ryan Reynolds spoke about the future of the Deadpool franchise.
"For Deadpool 3, you know, it's an odd thing to say but I don't think there will be a Deadpool 3. I think going forward it would be an X-Force movie, which would be his team so to speak."
Netflix Cancels Luke Cage Series
It looks like Luke Cage is the latest Marvel Hero to get canceled.
Netflix announced they would be canceling the series just a week after canceling Iron Fist. "Unfortunately, Marvel's Luke Cage will not return for a third season," Marvel and the streaming service said on Friday. "Everyone at Marvel Television and Netflix is grateful to the dedicated showrunner, writers, cast and crew who brought Harlem's Hero to life for the past two seasons, and to all the fans who have supported the series."
The second season had Luke Cage embracing his fame after the events of Defenders until Bushmaster played by Mustafia Shakir shows up to claim Harlem. Bushmaster wanted control of Harlem's gangs, something that not only puts him on Luke's to-punch list, but also in the crosshairs of Mariah (Alfre Woodard,) who has consolidated her control of Harlem and isn't interested in interlopers. Fortunately, Luke isn't without backup, as Misty Knight (Simone Missick) has a bright shiny new robot arm to beat up goons with.
Luke Cage was one of the best shows on Netflix, its sad day that creative difference between the higher-ups means no show for the fans.
VIA: Deadline
Don Cheadle Stars In New Showtime Comedy 'Black Monday'
Showtime released the official trailer for their limited dark comedy series, Black Monday.
Created by David Caspe (Happy Endings) and Jordan Cahan (My Best Friend's Girl), who will serve as executive producers and showrunners, Black Monday also boasts Emmy nominees Seth Rogen and Evan Goldberg (Preacher, Superbad, Future Man) as executive producers; they also directed the pilot.
"It's the story of how a group of outsiders took on the blue-blood, old-boys club of Wall Street and ended up crashing the world's largest financial system, a Lamborghini limousine and the glass ceiling."
Cheadle plays a fast-talking, cocaine-toting stockbroker who declares in the trailer, "I am black Moses and I am going to put the 'brother' in Lehman Brothers," while Rannells' character declares, "I'm gonna become the biggest swinging dick on Wall Street."
The trailer, soundtracked by Lil Wayne's "Uproar," captures the excess that comes with a healthy market and the dramatic fall from financial grace that arrived on Black Monday. The series' pilot, directed by Rogen and Goldberg, premieres on Showtime on January 20th.
Quavo Wrote A New Track For Lebron Staples Center Debut
Lebron James is embracing the star treatment he is getting with the Lakers. Now James will have his own theme song.
Quavo who wrote a song specifically to commemorate the King's first home game as a Los Angeles Laker. It will debut Saturday at 7:30 PM PST/10:30 PM EST on ESPN, during the Lakers' home opener against the Houston Rockets.
James and the Lakers will take on the Houston Rockets this Saturday, October 20 at Staples Center. ESPN has linked up with Quality Control to produce music different high-profile games this season. The Migos' DJ, DJ Durel, will be producing each of the songs along the way.
Listen to the preview below via HHNM.