Penn State RB Saquon Barkley Signs With Roc Nation
Penn State RB Saquon Barkley has decided to enter the NFL Draft. The two-time Big 10 offensive player of the year hired Jay-Z's Roc Nation firm to represent him joining the Rams running back Todd Gurley and Jaguars running back Leonard Fournette.
Barkley spoke to ESPN about his decision to sign with Jay-Z's sports management group.
"It was a really easy decision," Barkley said. "A lot of people came around my way, but they were focused on me and they did a great job at selling my family on setting me up for life, bringing value outside of football. I felt like it was harder for other agencies to pitch that family feel when they were working with 30 or 40 guys."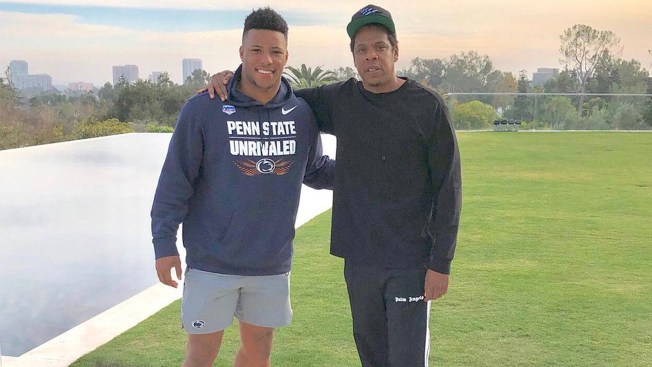 Barkley rushed after 1,271yards and 18 rushing touchdowns. Barkley is currently rated as the No.1 running back on most draft broads.
Gronk Will Return To The Patriots Next Year
Gronk is back for one last ride with the Patriots. Gronk posted his return to the Patriots on IG.
"I met with coach today and informed him I will be back for the 2018 season with the Pats," Gronkowski wrote. "I have been working out, staying in shape and feel great. Looking forward to another championship run. #bandsmakeherdance"
The 28-year-old tight end was closed to hang up his cleats after Super Bowl 52.
"I don't know how you heard that, but I mean, I'm definitely going to look at my future, for sure," he said. "I'm going to sit down in the next couple of weeks and see where I'm at." When prodded even further, in terms of what it would take to get him to hang the jersey up for good, he staunchly maintained his position. "I'm not ready for these types of questions right now," he said. I mean, I'm just going to sit down, reflect on the season, keep talking to my teammates…and just see what happens."
Donovan Mitchell Leads Jazz To An Unbelievable Game 4 Win
The Utah Jazz are on the verge of closing out the series against OKC. Just pause and take that all in. No one would have said the Jazz after losing Gordon Hayward in free agency would be up 3-1 against Russell Westbrook and Paul George. But thanks to Donovan Mitchell that is what we have on our hands.
The Jazz won an old-school physical game 4 against Thunder 113-96 on Monday in Vivint Smart Home Arena to take a 3-1 lead.
Donovan Mitchell scored 33 points, with seven rebounds and four assists behind 13-of-28 shooting from the field. The Jazz announced the guard surpassed Karl Malone's franchise record for the most points in a playoff game, which the Hall of Famer set in 1986 with 31 points.
"We just stayed within ourselves," Donovan Mitchell said. "We always say the strength of our team is the strength of our team. I said this morning we're not really worried about one individual comment. I think if we get caught up in that it takes us out of our own game, and our play showed tonight that we really just focused on each other and made the right plays when we needed to."
Giannis Saves The Day With A Clutch Tip In
The Milwaukee Bucks were down the Boston Celtics 2-1 in the series. But in Game 4, Giannis was determined not to let his squad lose.
The Greek Freak come up with a big play in the final seconds on Sunday. He scored 27 points with 5 seconds left and the Bucks looking at an L.  Malcolm Brogdon's missed a potential game-winning layup,  Antetokounmpo was able to tip the ball in to steal the win.
Antetokounmpo "made a great tip-in and he was battling for the ball. That's what great players do," said Boston coach Brad Stevens.
"One of the most important things that we can carry from this game moving forward is that we stayed disciplined and we trusted one another," Antetokounmpo said.
Game 5 is Tuesday night in Boston.