The outrage over players standing and taking a knee continues to be a devise subject. Fans booing players, the President calling players SOBs , the Vice President staging a walk out during the game, and Jerry Jones latest hypocrisy are one side of it. For the players battling inequality, systemic injustice, and facing people who still refuse them basic rights.
In this country, we no longer force children to stand or recital the Pledge of Allegiance. High Schools barely play the anthem before games. AAU Basketball tournaments do not have anthems. The majority of Americans do not hear the anthem before starting their work day. We do not stand for any other form of entertainment. You don't stand during the movies or before you watch Netflix. NFL owners and NBA commissioner want to force players to stand during the anthem.
"If there's anything that is disrespectful to the flag, then we will not play," Jones said. "You understand? If we are disrespecting the flag, then we won't play. Period."
The very man that was kneeling with his team following President's Trump comments. "I'm very supportive of the team, but under no circumstances, under no circumstances will the Dallas Cowboys, I don't care what happens. Under no circumstances will we as an organization, or as coaches and players, not support and stand and recognize and honor the flag"
What did Jerry Jones say to players before 2009? The answer is nothing. NFL players used to be in the locker room during the anthem like they are in college football. What made the NFL and NBA change their policy? Money. They didn't do it to honor our country, the veterans, or the rights of our citizens. They did it for money.
In 2009, the government paid professional sports teams for patriotism. The Senate oversight report by John McCain disclosed that more that 12 million dollars is annually spent on sports teams across all leagues.  John McCain and Jeff Flake examined 122 contracts between the Pentagon and various sports leagues, including $49,000 for the Wisconsin Army National Guard to sponsor performances of "God Bless America" at Milwaukee Brewers games; $20,000 for the New York Jets to honor one to two New Jersey Army National Guard soldiers as hometown heroes at each home game; and $1,500 to honor five Air Force officers at an LA Galaxy game.
Millions of dollars went to renting recruitment kiosks and staging patriotic and "heartwarming" tributes at games. Players were ushered out to show signs of unity and to reinforce the message. There were no death threats. No refunds for Direct TV or fans trying to boycott the NFL.
Now that players have decided to use their rights to protest they are villains in a upside down world. Players are expected to play, shut up, and put their mental health on the line. That is it nothing more and nothing less.
Aaron Rodgers posted the perfect picture to illustrate the hypocrisy. Aaron Rodgers posted the perfect response. "I can't imagine what kind of social media attacks these cameramen must be enduring after taking a knee during the anthem and wearing a hat."
Is Jerry Jones going to fire the camera crew? Will the Vice President walk out and in a rage. Before he post a ridiculous tweet on how it's not too much to ask the camera men to stop filming and stand for the anthem?
The answer again is no. No matter how the players chose to speak out, kneeling, sitting, arm locks, or fist raised the fundamental issue is symbolism and exploitation over inequality and injustice.
The antagonist attack on players based on Patriotism is just false. I'm not advocating we go back to players staying in the locker room. I'm not advocating that players stop using their right to protest for others who don't have voice. Every citizen has rights in country, no matter who their employers are. We should spend less time denouncing and demonizing players.
The Rock Says He Is Serious About The 2020 Election
"The Rock 2020" just got one step closer to reality.
During an appearance on Ellen with Jumanji co-star Kevin Hart, Dwayne "The Rock" Johnson, aka the world's second-highest paid actor and all-around badass, announced that the rumors about him running for office is not a joke.
Ellen DeGeneres put the Johnson on the spot when she straight-up asked him, "Will you run?" In return, she got a straight-up answer.
"I'm seriously considering it, yes," he responded.
Hart backed him up, saying, "If he were to put himself in that position, he would get my support wholeheartedly."
"I think the 'People's President' has a really nice ring to that. I'll just say that," Johnson said at Los Angeles Comic-Con on Saturday after being asked why a potential White House bid appealed to him, according to Entertainment Weekly.
On The Tonight Show, The Rock tells Jimmy Fallon: "I think a lot of people want to see a better leadership today. More poise, less noise. I think over the years I've become a guy a lot of the people relate to—get up early in the morning, go to work, spend time with the troops, take care of my family—that kind of thing really resonates with people." He caps his statement by saying, "Three and a half years is a long way away, so we'll see."
Again just cause he considering it doesn't mean anything. Until he says I'm officially running, this is all just fun.
Things To Know Before Investing In Cryptocurrency
In 2009 Bitcoin was less than a dollar.  You could have taken all of the money spent on fast food for the year and purchased some coins. Most Americans spend over $1500 dollars a year on fast food. So let's just use that.  Today Bitcoin cost about $18,000 dollars per unit, so that means if you would have invested your fast food money you would have $27 million dollars worth of Bitcoins.
Those type of crazy numbers is why people are going crazy for Bitcoins and other cryptocurrencies. But before you mortgage your home and sell all of your possessions check out some things you need to know.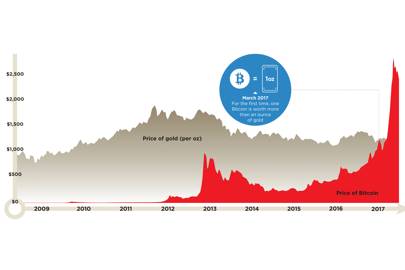 What Is Bitcoin?
Bitcoin is a type of cryptocurrency. OxfordDictionaries.com defines cryptocurrency as "a digital currency in which encryption techniques are used to regulate the generation of units of currency and verify the transfer of funds, operating independently of a central bank."
It might be useful to think of bitcoin as a digital currency that can be used to complete a transaction between two parties without involving a middleman. So in short person to person. It enables direct, private transactions between users, with virtually no transaction costs. So there are no atm fees, late fees, account fees, balance requirements, or bullshit overdraft charges.
Alt coins?
These are cryptocurrencies other than Bitcoin and there are hundreds of them. Anyone with the know-how can set up their own version of cryptocurrency as easy as most setup a social profile. But there are some outsiders like Monero, Ripple and Dash that have the potential to go far. Ethereum, which recently won backing from Microsoft and JP Morgan Chase, is up 900 per cent this year.
What's The Risk?
Buying cryptocurrency comes with a lot of risks since there are no regulations. In a recent poll with CNBC.com, most economists believe that Bitcoin is on the bubble and will suffer a huge downturn.  The last time the US stock market fell by more than ten per cent in a day was back in 1957; Bitcoin has seen more than ten per cent wiped off its value 38 times since January 2012. A cryptocurrency could also be obliterated overnight. Should major governments regulate hard against it or hackers manage to break its security, that's your money up in smoke. What's more, criminals have been stealing from online wallets and since there are no regulations or anyone to fill a fraud charge with.
How Much Could You Make?
There is no right or wrong answer here. Forget about the hype machines or the doomsday preppers. The easiest way to think about it, only invests what you are willing to lose. Things on the don't lose list should be your family, your livelihood, or your entire life savings.
Fixing Your Money Problems In 2018
Unless you were born into riches, you've probably dealt with money problems. It can be overwhelming at times. You can't seem to make enough money.  No matter how hard you work you can't seem to get out of debt. The anxiety caused by not having wealth is a real problem, but it does not have to be.
A little bit of financial literacy, time, and sacrifice can be all you need to get out of debt in 2018.
Value Over Everything
Don't buy a lower payment, buy value: One of the biggest mistake people make is their inability to live in the reality of how much they make. Instead, they live in what they believe they can afford each month. Buying something based on its monthly value is one of the main reasons people don't understand the value of money.
In other words, if you buy a TV that costs $1100 but financing it at $50 per month on your credit card, by the time you have paid it off, you will have paid almost twice its worth and by then its value will be obsolete. The idea is to buy things you can afford and a wise way to know if you can or cannot is to use the "10x Rule."
If it is an essential item and it is unlikely that you can live without it, then simply divide its cost into 10 payments and if you can afford to make those payments, not the advertised ones, then it might be the right purchase to make. The important thing is to commit to that larger payment rather than the minimum payment allowed.
Review Your Transactions
You accept reviews with everything else in your life, from product reviews and job reviews. So take the same time to review your transactions monthly.  A great practice by most people who have full control over their money is to look back at their previous month or year to understand their spending patterns. No matter how successful or bad the year was financial, it is important to understand how to improve the upcoming year.
Look back at your past credit card expenses and understand your wasteful spending for the year so that you don't repeat the same mistakes. With this practice, you'll also be able to ensure companies who automatically charge your account did not charge you extra or in error.
Don't Buy What You Don't Need
If you don't need it, don't buy it: Exercising self-control is key to reaching financial freedom. One of the common mistakes people make around money is the inability to resist the upgrade effect. If you don't need a new phone, then don't buy the latest phone. Focus your purchases of electronics and leisure items to the basics you need. By resisting upgrading one simple thing, you are also training yourself to not fall victim to the system and constantly be upgrading everything else that isn't needed.
Separate Your Accounts
Use a separate credit card for your daily expenses: While you may not want to open another credit card account, it may be necessary to help you take control of your spending. Putting everything on your credit card enables you to keep track of your spending versus using cash.
The important part is to make sure the card is paid in full each and every month without exception while keeping an eye on the charges and spending. Plus you can also be getting points for your daily expenses, which result in cash back or free travel that can help with vacation costs and enable you to save even more.
There you have it, four simple steps to take in December of 2017 to help you prepare and conquer your own money in 2018. These will help you not only understand your money better, but rather help you always position yourself in a manner that ends up putting you in a better financial position.