Donovan Mitchell Wants A End To Gun Violence
Utah Jazz guard Donovan Mitchell made a pair of powerful statements Wednesday about the shooting rampage at a Florida high school that left 17 dead: "Pray for Parkland" and "End Gun Violence."
Following the game Mitchell explained why school shootings struck a nerve with him.
"My mom's a schoolteacher," the Connecticut native, 21, told reporters. "I was about 15, 20 minutes away during the Sandy Hook shooting. It's kind of scary. I'm not saying all shootings make me feel the same way, but especially school shootings, with my mom being a nursery teacher, it's kind of scary that that could happen at any moment, anywhere."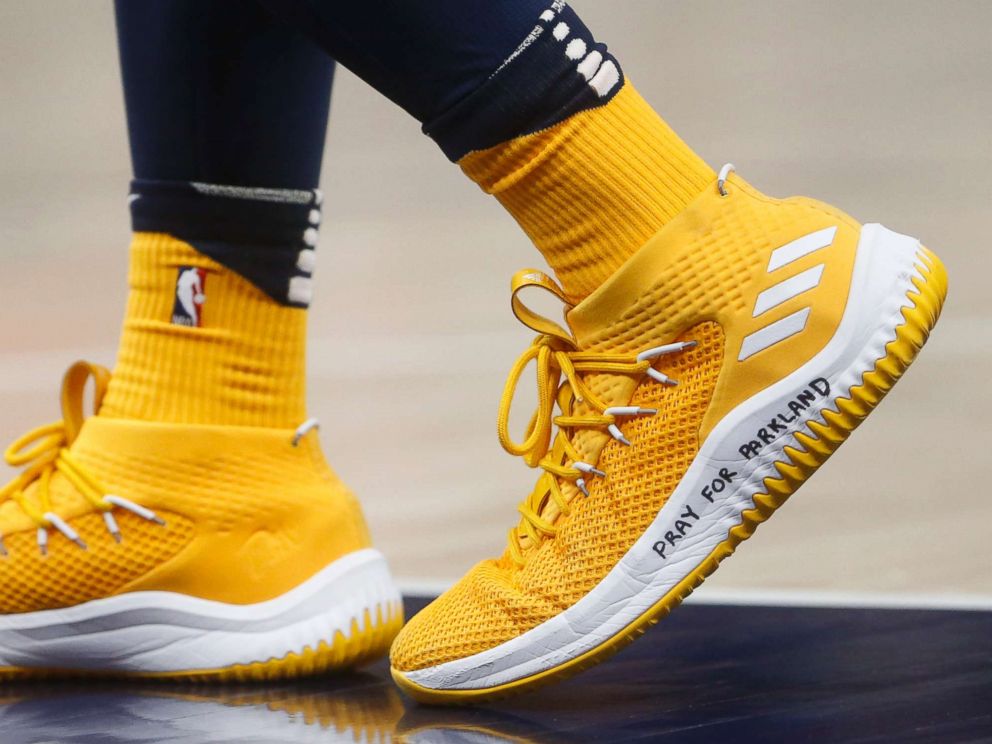 Mitchell continued, "And that's kind of one of the things that hit home with me, and why I came in here early. I saw a Snapchat video of a kid screaming. And I just sat there for 5 minutes just thinking about it. My prayers go out to all those families. It's tough. It's crazy."
Mitchell took the opportunity to speak out about gun control legislation.
"We definitely have to do something about it," he said. "A lot of people, we talk about it, and there's a lot of so-called awareness of it, but there's nothing being done. I looked something up, and the same gun that was used in Vegas, Orlando, Sandy Hook, and I'm missing more. It's interesting how it just continues to happen, and the movement doesn't do much."
Puma Promises To Donate Proceeds From Peace On Earth Shoes To Trayvon Martin Foundation
Puma has decided to show their support for against gun violence with a new line of sneakers.
The company announced it will donate $5 dollars from each shoe sold from the Peace On Earth line to the Trayvon Martin Foundation.
The PUMA Clyde Court colorway features a feather white knit build with off-white accents. Grey is featured at the heel counter while a touch of jolly red can be found at the top eyelet.
The sneaker will release on December 20.
Juicy J Backed Water Company Sells For $525 Million
Juicy J is celebrating after his investment in Core Water brand has paid off.
The company has been acquired by Keurig Dr. Pepper for $525 million. The Oscar-winning artists commented on the deal via Instagram typing, "The best investment I made in my life."
Wholesale sales for CORE were between $70 and $80 million, while retail sales were close to $200 million. KDP expects to reel in $90 million in tax benefits as part of the deal.
"KDP has been an outstanding partner for CORE and I am certain that, under its ownership, CORE will continue to see tremendous long-term success," founder Lance Collins said in a press release. "I am a strong supporter of the KDP strategy and business model and am looking forward to being a shareholder in the company."
Drake Wins Lawsuit Over Woman's False Rape And Pregnancy Claims
Drake has won his lawsuit with the woman that made false pregnancy and rape allegations against him in 2017. Layla Lace met Drake during last year's Boy Meets World Tour in Manchester, England, where he claimed they had consensual sex.
According to TMZ, Drizzy won his case and Lace is prohibited from using media to assert the claims. Manchester police also investigated, once Lace made the claims and could not find any evidence.
Drake claimed that when he stopped responding to subsequent messages, she allegedly began threatening to leak their correspondence, publicly claimed he had impregnated her, accused him of rape, and demanded "millions of dollars" in exchange for silence. Drake is reportedly suing for civil extortion, emotional distress, fraud, defamation, and abuse of process.
The suit claimed Layla refused to take a paternity test and Layla and her lawyer went radio silent. Drake says the whole thing was a scam … "There is no credible evidence of pregnancy, nor any baby, which would have been born last Fall."
Celebrity attorney Larry Stein, who's repping Drake, tells TMZ … "The filing made by Drake against Layla Lace has been resolved, with Layla avoiding going to trial by agreeing to a stipulated judgment which prohibits her from repeating past statements she made against Drake.  Drake and his team are satisfied with this outcome and while Drake appreciates the support he has received, he asks that his fans and the media allow both parties to move on with their lives"