Concept Art Revealed What Erik Killmonger Suit Could Have Looked Like In Black Panther
Marvel's Black Panther is still surging at the boxoffice grossing over $550 million in just seven days. Now the studio has released some early concept art for the villain Erik Killmonger played by Michael B. Jordan.
Marvel concept artist Ryan Meinerding took to social media to share one of the unused designs for Killmonger's costume. Instead of the gold that is shown off in the final product, we're treated to a more nuanced look, that is all black and sleek.
Killmonger suit almost looked like in Black Panther and it's surprisingly close to the Ta-Nehisi Coates version of the character.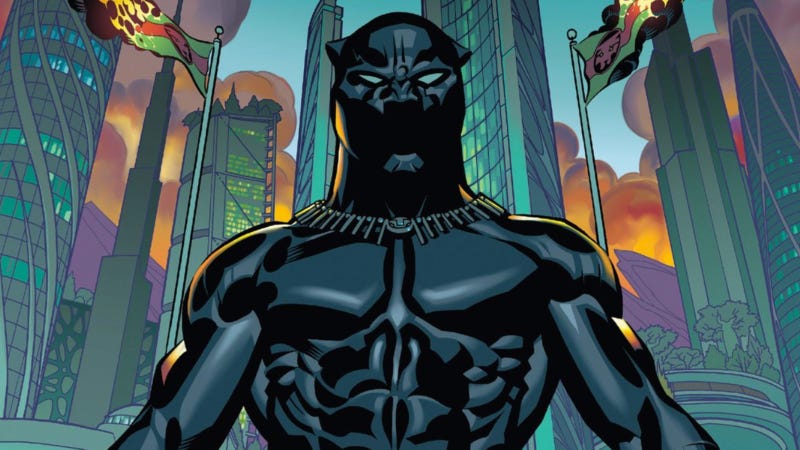 Rick And Morty Creators Promises No More Long Waits After Season 4
Rick and Morty's creators are gearing up for a historic run for the series.
After long negotiations that pushed back season 4, Adult Swim has renewed the show for 70 episodes. Now with the deal in place fans won't have to wait 18 months between seasons.
Rick and Morty co-creator Justin Roiland spoke to Polygon about the impact of the new deal. "We're super excited that, for the first time ever, we're locked in, we know what the future is, we have job security," Roiland said. "Harmon is in great spirits, we have a great writer's room. We want the episodes to stay good, but we do also want to try to turn them around a little quicker now that we have this big order, I think it gives us the ability to be faster. We're not going to do these long breaks, these chasms in between seasons anymore. We're going to schedule vacation time and just keep the machine going. It's going to be really cool."
Fans still have to wait a couple of months for the fourth season. Rick and Morty's fourth season may not debut until late 2019.
Adonis Is Ready To Avenge His Father's Death In The Ring In Creed II Trailer
The demons from the past return in the first Creed II trailer.
Life has become a balancing act for Adonis Creed. Between personal obligations and training for his next big fight, he is up against the challenge of his life. Facing an opponent with ties to his family's past only intensifies his impending battle in the ring. Rocky Balboa is there by his side through it all and, together, Rocky and Adonis will confront their shared legacy, question what's worth fighting for, and discover that nothing's more important than family. Creed II is about going back to basics to rediscover what made you a champion in the first place, and remembering that, no matter where you go, you can't escape your history.
Sylvester Stallone, who won a Golden Globe for Creed and wrote Creed II, and Tessa Thompson also return, with Dolph Lundgren reprising his Rocky IV role of Ivan Drago, the boxer who killed Creed's father Apollo in the ring. Pro boxer Florian Munteanu will star as Drago's son and Creed's latest opponent.
Creed II comes to theaters November 12, 2018.
Bas Is Enjoying Life On Boca Raton Track
Bas has finally come out of hiding for a new track with ASAP Ferg.
For "Boca Raton," producer Sango lays down distorted synths and tambourine shakes as light drum strikes creep in behind Bas' vocals. Bas isn't looking to be tied down in a relationship, rapping, "I got this chick on the phone/Talking 'bout life and how I just ain't for her, I been inclined to agree/'Cause all I been doin' is me/Now I can't be your one baby girl/But I play the two or the three now."
Bas has been on tour with J. Cole and promised fans he would be dropping new music all summer long. So let's hope this is the first track of meaning.